Indian Prime Minister Narendra Modi is expected to inaugurate India's new parliament building in New Delhi on Sunday, part of a controversial $2.4 billion revamp of the capital's historic center that his critics have called a "vanity project."
In a ceremony marking the occasion, the leader will install the "Sengol," a symbolic scepter, in the legislature's lower house. The gold-plated object was gifted to the country's first prime minister on the eve of India's independence from Great Britain in 1947.
Indian Home Affairs Minister Amit Shah told reporters Wednesday that Modi's involvement was a "testament" to the prime minister's vision of "creating a new India." He added that the parliament's design "combines the country's heritage and traditions."
But the impending opening has become a flashpoint in the ongoing political and cultural war between Modi and his opponents, who accuse the populist leader of being "authoritarian" and "undemocratic."
In this instance, they have taken issue with Modi's decision to inaugurate the parliament building himself, rather than letting India's President and head of state, Droupadi Murmu, lead the ceremony.
In a statement, 19 political parties announced Wednesday they will boycott the opening, saying that parliament "cannot function" without the president and calling Modi's prominent role in the ceremony a "direct assault" on India's democracy.
"When the soul of democracy has been sucked out from the Parliament, we find no value in a new building," the statement read.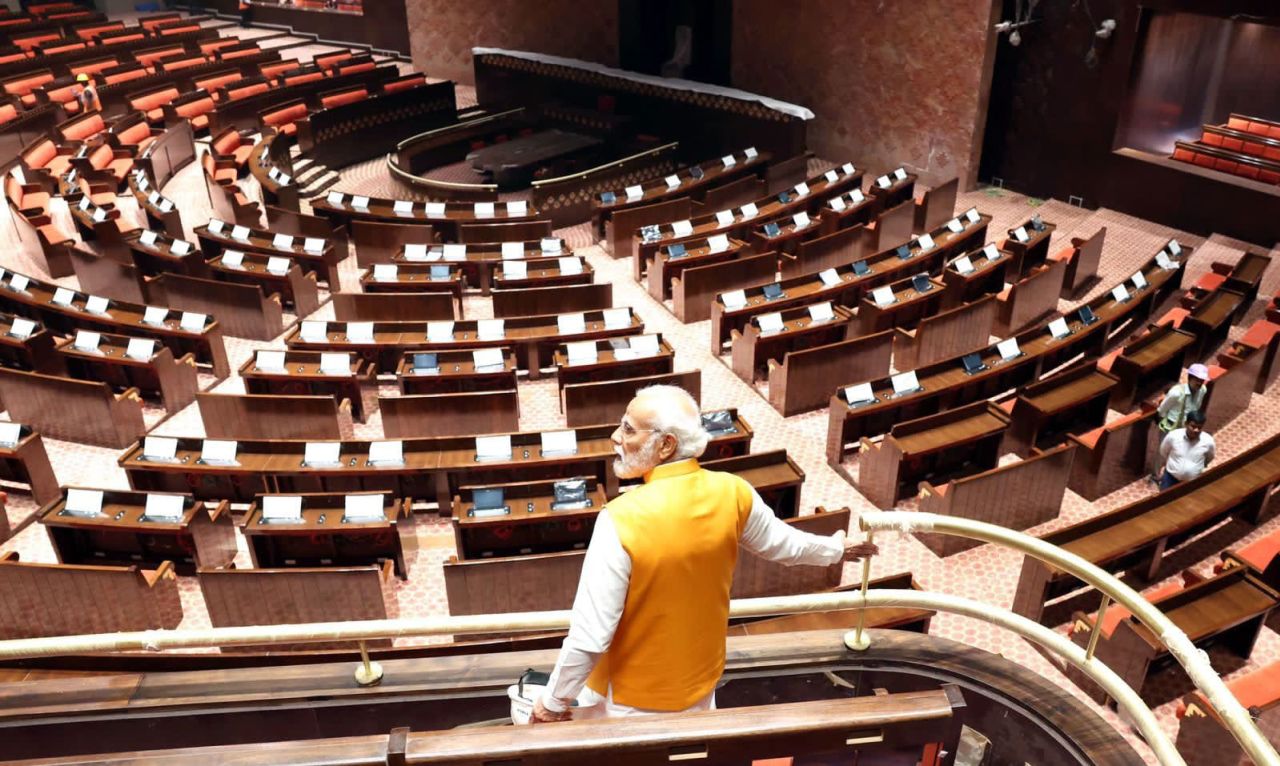 Modi pictured on a visit to the new parliament building earlier this year.@JoshiPralhad/Twitter
Some politicians have also questioned the government's choice of inauguration date, which falls on what would have been the birthday of the late Vinayak Damodar Savarkar, a leading figure in India's Hindu-nationalist movement.
The ruling Bharatiya Janata Party (BJP) considers him a hero, while its opponents argue that Savarkar's ideologies discriminated against minorities.
Shah has dismissed concerns, saying the "event should not be politicized" and that all lawmakers are invited to attend.
CNN has contacted Modi's and Murmu's offices for comment but has not received responses.
Controversial Project
The new triangular parliament building is part of a major overhaul of New Delhi's colonial-era administrative center dubbed the Central Vista Redevelopment Project. Since it was announced in September 2019, the plan has drawn criticism from politicians, architects and heritage experts over the cost and timing of the works.
Branded by some as expensive, environmentally irresponsible and a threat to cultural heritage, the project will see dozens of new government buildings spread across more than 85 acres of land, including Modi's elaborate new private residence.
In 2020, a petition was filed to India's Supreme Court opposing plans on legal and environmental grounds. That same year, a group of 60 former civil servants wrote a scathing open letter to Modi describing the project as a "thoughtless and irresponsible act."
The group also highlighted the architectural value of buildings earmarked for demolition, saying that the scheme would "irrevocably" destroy the area's cultural heritage.
Outrage grew in 2021, after it emerged that construction at the site had been deemed an "essential service" and was thus exempted from a city-wide Covid-19 lockdown. This meant that work on the parliament continued as a devastating second coronavirus wave pushed hospitals to breaking point and sent people begging for oxygen in the streets.
The government defended its decision to push ahead with construction, saying that delaying work would create "liabilities" and affect workers' livelihoods.
The rush was widely thought to have resulted from hopes of opening the parliament building by the 75th anniversary of Indian independence in August 2022. The deadline was not met, though the newly renovated Central Vista Avenue, a 3-kilometer (1.8-mile) boulevard running through the heart of the redevelopment, was inaugurated weeks later.
Called Kingsway under British rule, the road was renamed Rajpath in 1955. The buildings spilling out either side once housed Britain's Imperial Government, though Indian authorities repurposed them for their own administration after the country gained independence. In a speech inaugurating the revamped boulevard, Modi said that by renaming it Kartavya Path (or "road of duty") a "symbol of slavery" had "been erased forever."
Since his rise to power nearly a decade ago, the prime minister has been keen to position himself as a disrupter of India's colonial legacy, and often uses emotive language.
The renaming of the road falls in line with Modi's vision of a new India that removes "any trace of colonial mindset," as he put it in a speech on Independence Day last year. In a symbolic, albeit coincidental, turn of events, Kartavya Path's inauguration took place on the day that Britain's Queen Elizabeth II — daughter of the last Emperor of India, George VI — died.
Modernization Necessary
Supporters of the Central Vista Redevelopment Project say the revamp is necessary to modernize India's government, and that some of the old administrative buildings were unfit for purpose.
Designed by English architects Edwin Lutyens and Herbert Baker in the early 20th century, the circular council building that became India's parliament was originally intended to serve the country's colonial government. In the decades that followed independence, newer structures were built nearby to serve a growing Indian administration.
According to the architect behind the multi-billion-dollar redevelopment, Bimal Patel, many offices were "dysfunctional" and in dire need of an upgrade. Capacity is also limited — a concern magnified by growing calls to increase the number of MPs sitting in India's parliament.
"We need to improve the technology, we need space for dining, we need to create toilets, we need to create storage space, and office and administration space — it's very clear that it can't be done in the space available," Patel told CNN in 2021.
Even some of Modi's political opponents agreed.
"From a purely utilitarian point of view, many would agree there is a need for some significant changes," opposition lawmaker Shashi Tharoor, one of Modi's fiercest critics, previously told CNN. "One is that the parliament building would have needed an extensive renovation to be fit for purpose, and clearly the government concluded that they couldn't do that, and that they needed to build a new one."
The new building sits in front of India's old house of parliament, a circular structure that will be retrofitted and put to as-yet unspecified use.
The interiors include motifs inspired by some of India's national symbols, including the lotus and peacock. The design also references important heritage buildings, such as Rashtrapati Bhavan, the former British Viceroy's house that now serves as the Indian president's official residence.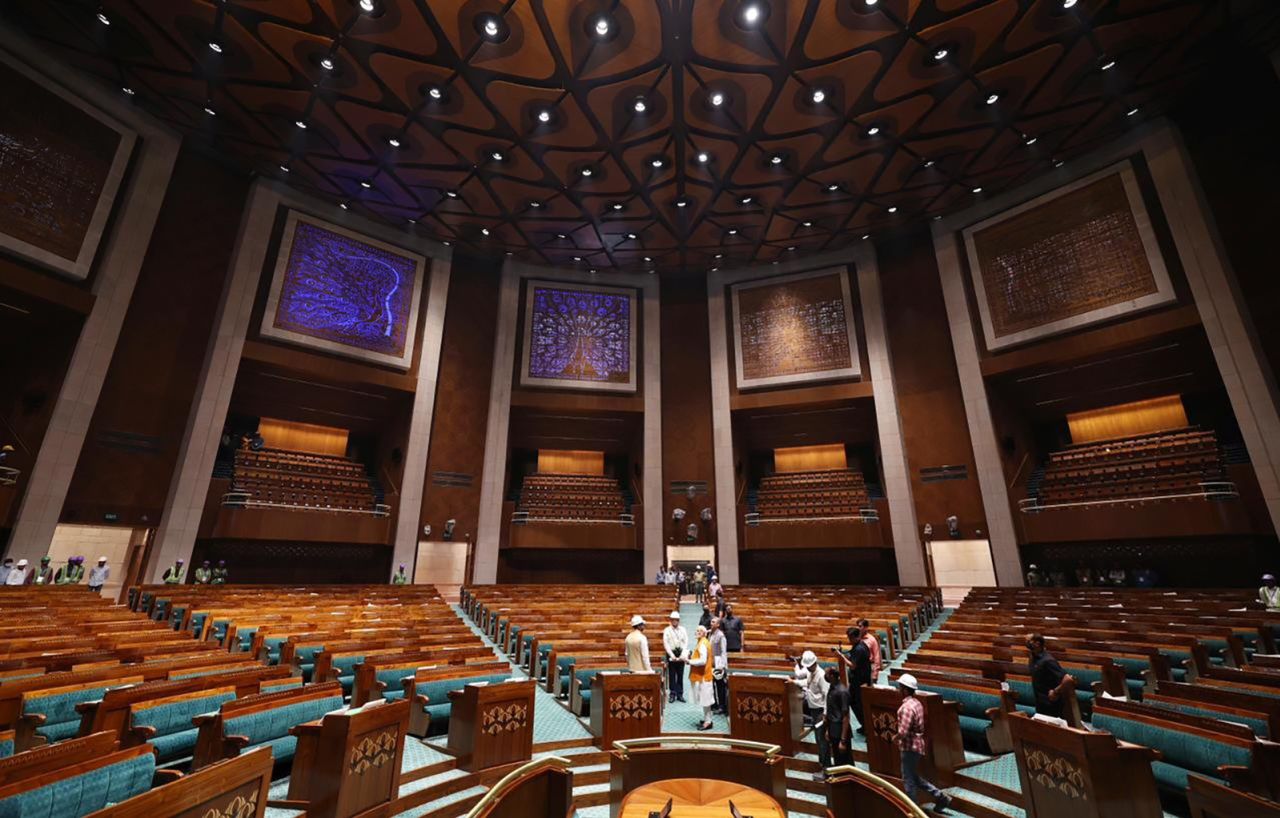 A photo of the parliament's interior taken during a visit to the building by Modi earlier this year.@JoshiPralhad/Twitter
But Tharoor argued that there had been a "lack of consultation" among politicians, architects and the public, reducing opportunities for criticism, comments and suggestions.
For Modi, who swept to power in 2014 on a ticket of nationalism and a promise of future greatness, the Central Vista Redevelopment Project may be seen as a powerful tool for political influence. But as he looks to secure another term in power at next year's general election, his critics have decried the leader for serving himself, and not his people.
Referring to President Murmu's apparent sidelining at Sunday's ceremony, congress lawmaker Jairam Ramesh wrote on Twitter: "It is one man's ego and desire for self-promotion that has denied the first Adivasi (indigenous Indian) woman President her Constitutional privilege to inaugurate the new Parliament building."
Source : CNN News