Fans packed inside the enormous Narendra Modi Stadium in Ahmedabad, India to watch India take on Pakistan in the ICC Men's Cricket World Cup on Saturday.
And in front of a sea of blue India shirts, punctuated by flashes of green, orange and white as people waved India flags, the home team secured a thumping seven-wicket victory over Pakistan.
Often described as one of the greatest sporting grudge matches in the world, an India-Pakistan cricket match is always bound up in the geopolitical faultlines that separate the two nations.
There were small pockets of Pakistan fans, for whom it is incredibly difficult to travel into India due to red tape and historical mistrust that restricts the movement of citizens between the countries, but they were largely absent from the crowd.
Pakistan's head coach Mickey Arthur said afterwards, per Reuters, that the event "seemed like a bilateral series" rather than a World Cup and that he "didn't hear Dil Dil Pakistan (the country's unofficial anthem) coming through the microphones too often."
"So yes, that does play a role, but I'm not going to use that as an excuse because for us it was about living the moment, it was about the next ball and it was about how we were going to combat the Indian players tonight," he added.
The two teams had not played each other for seven years on Indian soil, and Pakistan had never defeated India at a men's World Cup.
Initially, it seemed that record might be under threat as Pakistan began strongly, en route to setting a competitive total as captain Babar Azam and Mohammad Rizwan put on 82 runs for the third wicket, with Babar scoring a half-century for the first time in an ODI match against India.
But he was bowled by Mohammed Siraj shortly afterwards and, following his dismissal, Pakistan collapsed from their strong position of 155-3 to 191 all out, as India's bowlers tore through their batting line-up in just 42.5 overs.
Led by a rampaging Rohit Sharma, who starred with 86 off 63 balls, India responded with ease, reaching Pakistan's total with 117 balls to spare.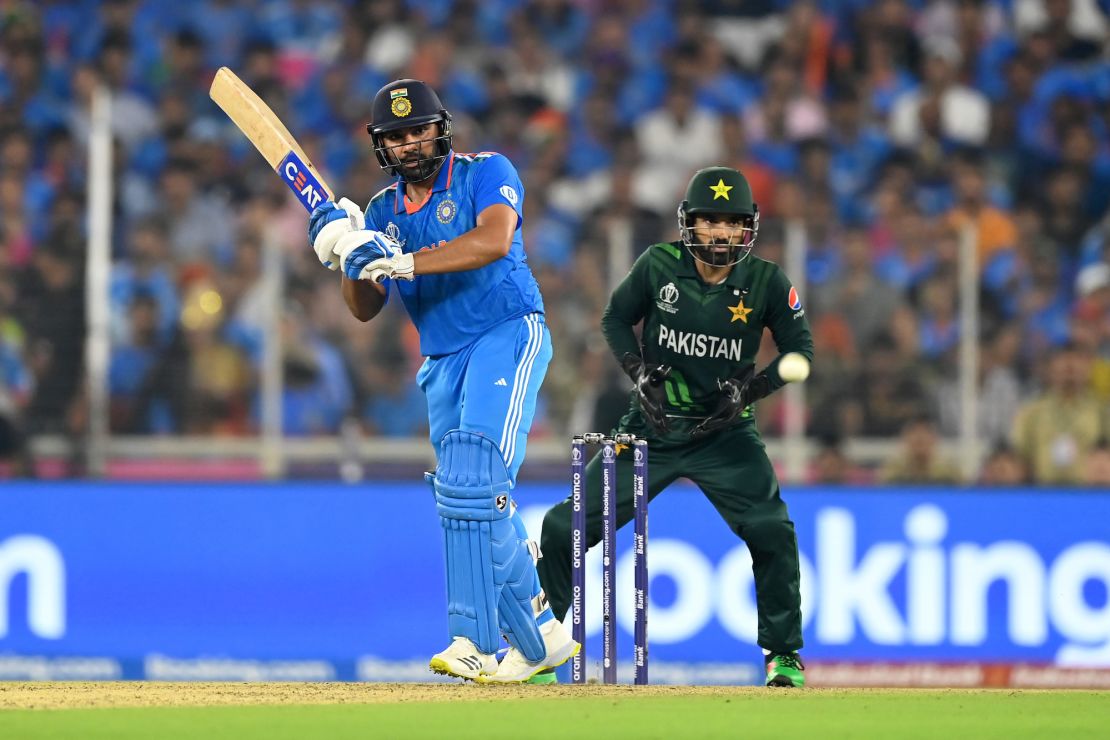 Rohit Sharma led his side to victory.Alex Davidson/ICC/Getty Images
"The bowlers were the ones today who set the game for us again," Rohit told Sky Sports afterwards. "Restricting them to 190 was a great effort. I don't think it was a 190 pitch.
"We don't want to get our hopes too high or too low. We want to keep balanced, that's the key. It's a long tournament."
India will next play on Thursday against Bangladesh while Pakistan will face Australia on Friday.
Source : CNN World