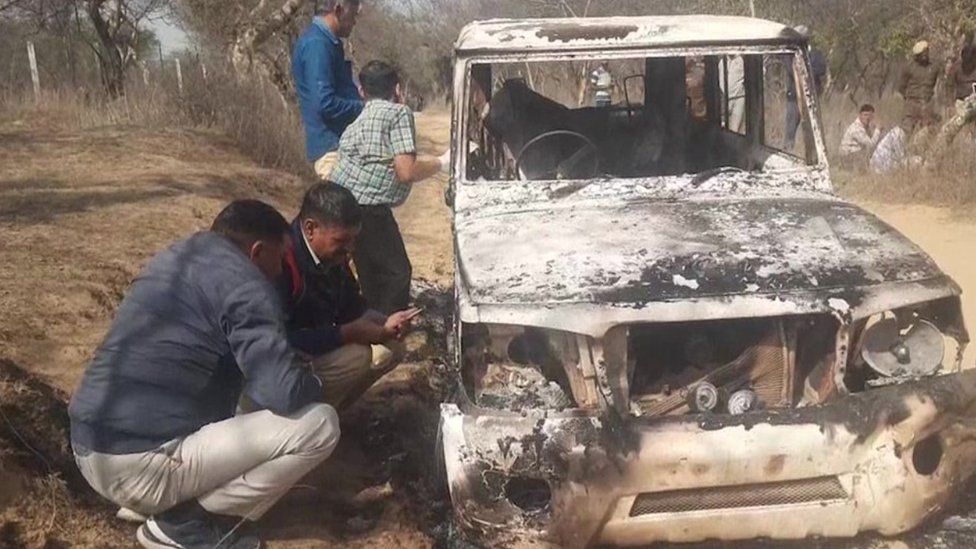 The discovery of two charred bodies in a burnt vehicle in India's Haryana state has led to anger and questions over police handling of the case.
Police say the bodies belonged to two Muslim men from neighbouring Rajasthan state who had been reported missing.
Their relatives say they were killed by right-wing Hindus who reports say accused them of cow-smuggling.
Leaders of the Bajrang Dal group have denied the claims as have police, who say they're investigating the killings.
What happened?
Police in Haryana said last week they began investigating after locals found the vehicle and its two bodies in the village of Barwas in the state's Bhiwani district.
Initially, police didn't confirm the identity of the victims, but said that the burnt vehicle was a Mahindra Bolero, the SUV in which the two men – later named as Junaid and Nasir – had been travelling before they were reported missing in Rajasthan.
A senior Rajasthan police official then confirmed the bodies were of Junaid and Nasir. Their relatives also identified them.
Why the two men were travelling remains unclear. A family member told police they left their houses early on Wednesday morning in the vehicle for some "personal work".
"At around 9am, some people at a shop said that two men were badly beaten up by 8-10 people. They were then taken away in a car," the relative's complaint to police says, adding that the attackers had been identified as members of the Bajrang Dal.
The Indian Express reported a senior Rajasthan police official as saying that after they received the complaint, they tried tracking the victims' phones, which were switched off.
After they learnt that a burnt Bolero car had been found in Haryana, a Rajasthan police team accompanied the men's relatives to the spot.
The official said that the family members had named some "suspects [who] are from Haryana".
He also added that the motive behind the alleged murder wasn't clear yet. "Nasir doesn't have any criminal record. Junaid has five previous cases of cow smuggling registered against him," he said.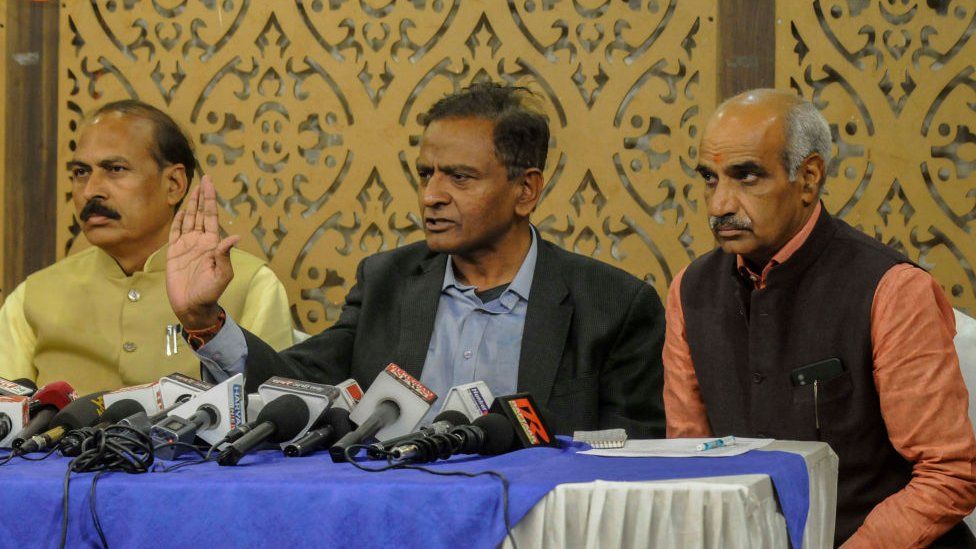 Slaughtering cows – venerated by Hindus – is illegal in a number of Indian states, including Rajasthan and Haryana. While buffaloes are exempt from the rule, buffalo meat sellers and cattle traders – many of them Muslim – have often been assaulted in recent years by Hindu vigilante groups who have accused them of transporting beef.
After the two bodies were found in the Bolero, several media reports said the men may have been attacked by cow vigilantes on suspicion of transporting beef.
Ram Naresh, the investigating officer in the case, told BBC Hindi that the police complaint does not mention cow smuggling.
"No cattle have been found with the deceased… We are probing the case from every angle," he said.
Has anyone been arrested?
Yes, one man called Rinku Saini, who was named in the complaint, is in custody under arrest. Police have said that Mr Saini, a taxi driver from Haryana, belongs to cow vigilante groups. His family told BBC Hindi he was just a driver, and had no involvement with this case.
Police have also said that they are searching for the four other men named in the complaint, including Monu Manesar, a Bajrang Dal member who was part of a local cow protection task force.
Mr Manesar has more than 200,000 followers on YouTube, where he often posts videos of himself and others confronting alleged cow smugglers and rescuing cows.
After the recent case sparked outrage, Mr Manesar posted a video denying any involvement and saying he was not at the scene.
He has also received support from leaders of the Bajrang Dal and another right-wing organisation called the Vishwa Hindu Parishad, who held a press conference claiming that cow vigilantes were being "falsely framed".
But family members of the victims have been protesting, demanding that he and the other accused be arrested.
"Our protest will continue until Monu Manesar is arrested," one of the relatives told The Hindustan Times newspaper.
What are the claims against police?
Police in Haryana have set up a committee to look into allegations made by Mr Saini, the only person to be arrested so far.
According to media reports, Mr Saini has alleged that he and the other accused tried to hand over the two victims to police in Haryana's Nuh district.
They had been beaten badly, reports say, but were still alive.
Quoting Rajasthan police sources, a report by NDTV suggested the Haryana police could have intervened, but did not.
A relative of the victims also alleged that Haryana police were "working in co-ordination" with Bajrang Dal members.
"The allegations against us aren't true. We have no involvement in the deaths," said Varun Singla, police superintendent of Nuh district, adding that the committee had been set up since the allegations were "serious in nature".
The Rajasthan police have also been accused of assaulting relatives of another accused in the case – they have denied this.
Source: BBC