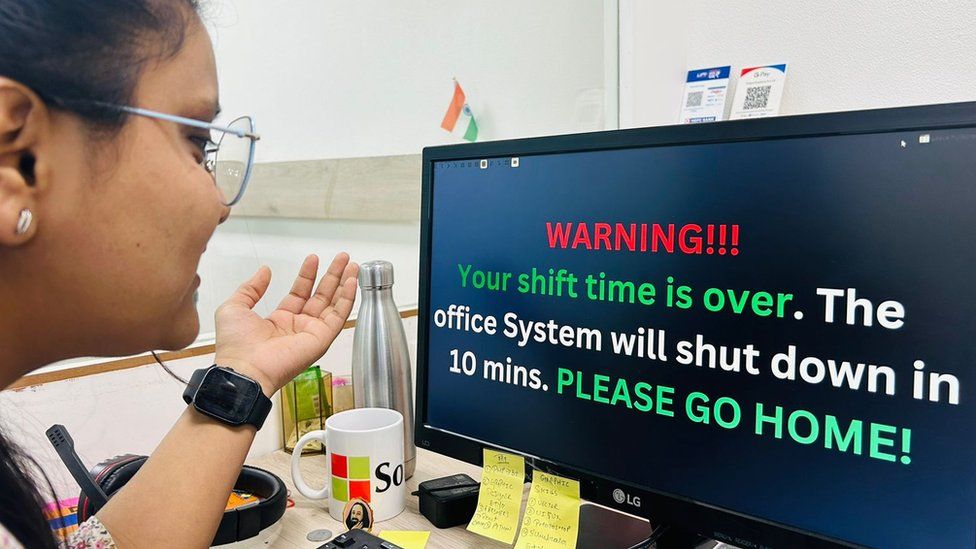 Tanvi Khandelwal, 21, was taken aback recently when a colourful warning flashed across the screen of her work computer.
"Your shift time is over. The office system will shut down in 10 mins. PLEASE GO HOME!" it read.
Ms Khandelwal, who had joined the company's human resources division just a few days ago, soon found out that the pop-up message had been installed by her new employers to get her to log off on time.
She is among 40 employees at SoftGrid Computers – an Indian tech start-up based in Indore city in Madhya Pradesh state – who get a daily notification to log off every day, 10 minutes before their shift ends. At 7pm, their computers automatically shut down.
Shweta Shukla, CEO and co-founder of SoftGrid, says that the notification was part of the company's efforts to help employees enjoy a better work-life balance.
"The Covid-19 pandemic threw our work days out of balance and we all began working long hours. I was struggling to make time for my child," she says.
Her partners at the firm were facing similar challenges.
So they asked a colleague to create software that would first flash a warning on screen, and then shut down the computer 10 minutes later.
The software was installed in all employee systems about six months ago.
"We did it over a weekend as we wanted it to be a surprise. When the pop-up first flashed across screens, many employees thought it was a prank, or that someone had hacked into their computer," Ms Shukla says.
She says she chose the pop-up route because it was more fun than a "boring memo or email".
Employees say that the message is a handy reminder to leave the office and head home.
Ms Khandelwal says that this is quite different from her experience at former workplaces, where leaving early was frowned upon and employees were encouraged to work extra hours.
She posted about the pop-up initiative on LinkedIn about a week ago, saying that if one was "working in this type of culture, you do not need any Monday Motivation or Fun Friday to improve your mood".
The post soon went viral, with more than 400,000 likes and 7,000 comments.
Many users have praised the initiative, but some also questioned its practicality.
"This will create pressure to meet deadlines early," wrote one user. Another said that the "inflexible working ethos" might force people to work on weekends. Others asked what would happen if there was work pending and an employee couldn't simply log off.
"They can simply restart the system and log in," says Ms Shukla.
She says that the message isn't binding and is merely meant to remind her teammates that the workday is over and that they're free to leave.
"Some of our clients are not happy about this, but we're standing by it," she adds.
Source: BBC