In the crowded east Indian city of Kolkata, a small community of Hakka Chinese have been living quietly for more than a century now.
When Janice Lee went on holiday to China, she found that she couldn't wait for it to end. "I couldn't speak the language, I didn't like the food and I felt very lost," she recalled.
Not being able to fit into a foreign culture may not sound that strange – except that Lee is of Chinese origin herself. When she told me, "I felt at ease only when I finally got back", she was referring to her home in Kolkata. Lee is a fifth-generation Indian Chinese of Hakka origin, and works at Pou Chong Foods, a business started by her grandfather in 1958 to supply Chinese sauces and noodles to other Chinese residents.
India's first Chinese immigrant, Tong Ah Chew (Atchew, according to British records), arrived in Kolkata with loads of tea in 1778 and set up a sugar mill near the city. As an eastern port, Kolkata was the closest entry into India from China and East Asia, so this became India's only Chinese community. The city's Chinese population swelled to more than 20,000 in the early 20th Century when many fled China to escape its civil war and conflict with Japan to find work in the tanning and leather industries. Here, they intermarried and integrated with locals, learning to speak Bengali and Hindi fluently.
Lee explained that it was Ah Chew's association with sugar – "chini" in many Indian languages including Bengali – that gave rise to the still-prevalent Indian word for Chinese people, best captured in the popular diplomatic slogan of the 1950s, "Hindi Chini bhai bhai" (Indians and Chinese are brothers). Kolkata's original Chinatown is still called Cheenapara.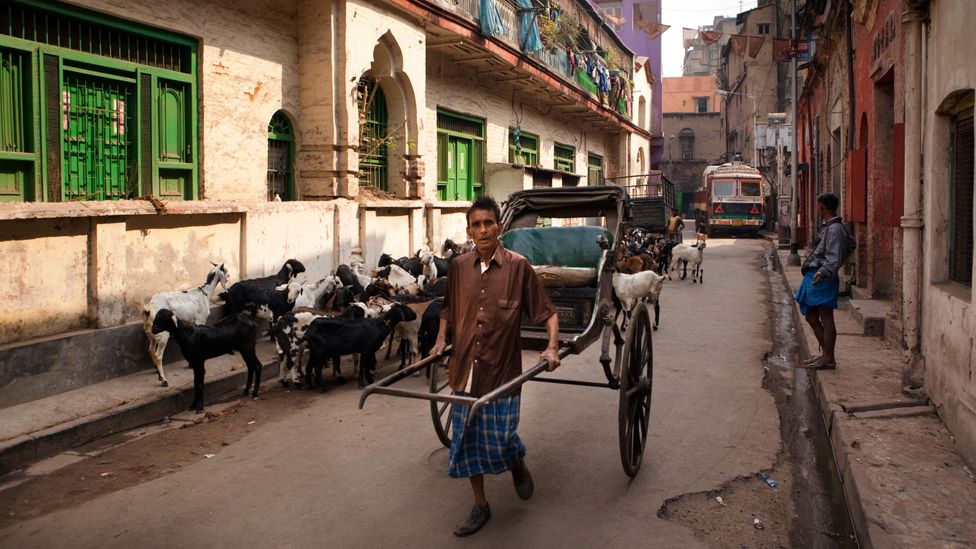 Tiretta Bazar, also referred to as Old Chinatown, has existed since the 1800s (Credit: Neil McAllister /Alamy)
Today, there are barely 2,000 people of Chinese origin left in Kolkata. But their culture is visible everywhere in the Tiretta (also called Tiretti) Bazar and Tangra neighbourhoods: in the street food vendors, the Taoist temples and community clubs, as well as the annual lion dances to welcome the Lunar New Year.
While cities like San Francisco and London are known for their Chinatowns, Kolkata's has remained under the radar. And while India still doesn't have any other Chinatowns, Kolkata counts not one, but two: the original one at Tiretta Bazar that has existed since the 1800s; and the settlement created later at Tangra in the early 1900s.
Kolkata blogger Rangan Datta, who has been documenting local heritage for many years now, explained that a large chunk of the population was forced to move to a marshy area that used to be outside the main town when pollution-causing tanneries were shifted out of Tiretta Bazar in central Kolkata.
"The Chinese first settled in an area between the Bengali town and European town, where other foreigners like the Armenians and Greeks, as well as non-Bengalis such as the Marwaris and Parsis lived. All of them came to Kolkata then for trade or business," he said.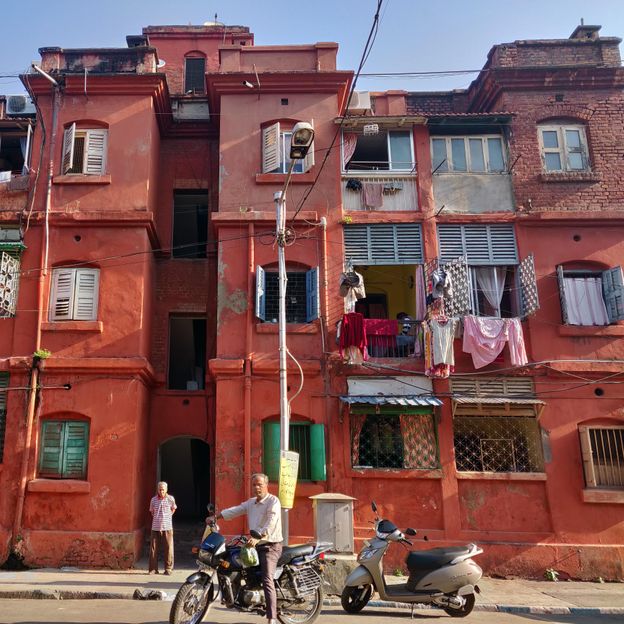 The Anglo-Indian community lived in the red brick apartments of Bow Barracks, not far from Tiretta Bazar (Credit: Charukesi Ramadurai)
Surely enough, Bow Barracks (where the Anglo-Indian community lived), the Armenian Church and the Parsi fire temple all exist in close proximity within this multicultural neighbourhood. Even then, not everyone from the community lived in Tiretta Bazar, said chef Peter Tseng, a third-generation Kolkata Chinese, who grew up outside the area and remembers visiting his cousins living there.
The Chinese have been living in close proximity with other communities since the beginning, and some of them speak better Bengali than me
Kolkata resident Swati Mishra, who led the Community Art Project at Tiretta Bazar, aimed at garnering local participation to rejuvenate their public spaces, said, "Unlike typical Chinatowns, Tiretta Bazar is not a gated or enclosed community. The Chinese have been living in close proximity with other communities since the beginning, and some of them speak better Bengali than me." But Tangra, which was created later, does have the ornamental gateway typical of Chinatowns worldwide.
One of the ways in which the Chinese community managed to bridge the gap with locals was through food. The first Chinese restaurants in India were set up in Kolkata by the local Hakkanese community, and over time, this Sino-Indian – or "Chindian" – cuisine made its way to the rest of the country. To this day, it remains their greatest gift to India, a constant favourite across the country and one of the mainstays of eating out in India, found everywhere from street carts to plush restaurants.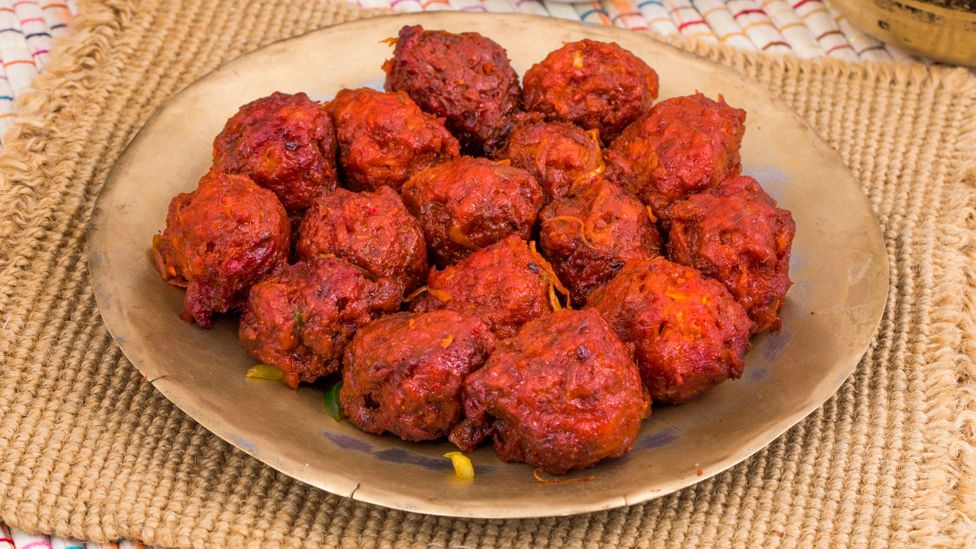 Gobi Manchurian is a much-loved Indian Chinese dish throughout India (Credit: RS Stock Images/Getty Images)
Tseng, who grew up with what he calls the "mild flavours" of traditional Hakka food at home, said that cooks had to improvise to please Indian palates. "They added green chilli, onions, coriander powder and even garam masala… to each their own," he noted pragmatically.
The addition of local spices and sauces gave birth to dishes like chilli chicken (using dark soy sauce) and gobi manchurian (fried cauliflower florets tossed in corn starch and spices), totally unheard of in mainland China. Pou Chong foods has also started making Indian sauces such as pudina (mint), kasundi (the Bengali version of mustard) and a chilli chicken sauce – all loved equally by Kolkata's Indians as well as Chinese locals.
Sunday morning Chinese breakfast at Sun-Yat Sen street in Tiretta Bazar is a beloved ritual for many Kolkata locals, who go for the fresh dumplings, wontons and noodles served at the makeshift street stalls. By 05:30, vendors are ready with tall, cylindrical aluminium steamers filled with pork buns, chicken momos and fishball soup. Meanwhile, Tangra is best known for Chinese restaurants such as Beijing, Ah Leung, Kim Ling and Golden Joy (Tseng's family favourite).
"Kolkata Chinese is famous everywhere in the world, there is even a restaurant in New York," Lee declared, referring to Tangra that serves "Chinese Cuisine Indian Style".
Despite being a part of India for more than a century now, Kolkata's Chinese community is rapidly shrinking and the neighbourhood itself is in danger of entirely disappearing, according to the World Monument Fund. Lee spoke of the challenges that come with living on valuable real estate in the heart of a populous city, with rampant "land grabbing" and fights over property ownership.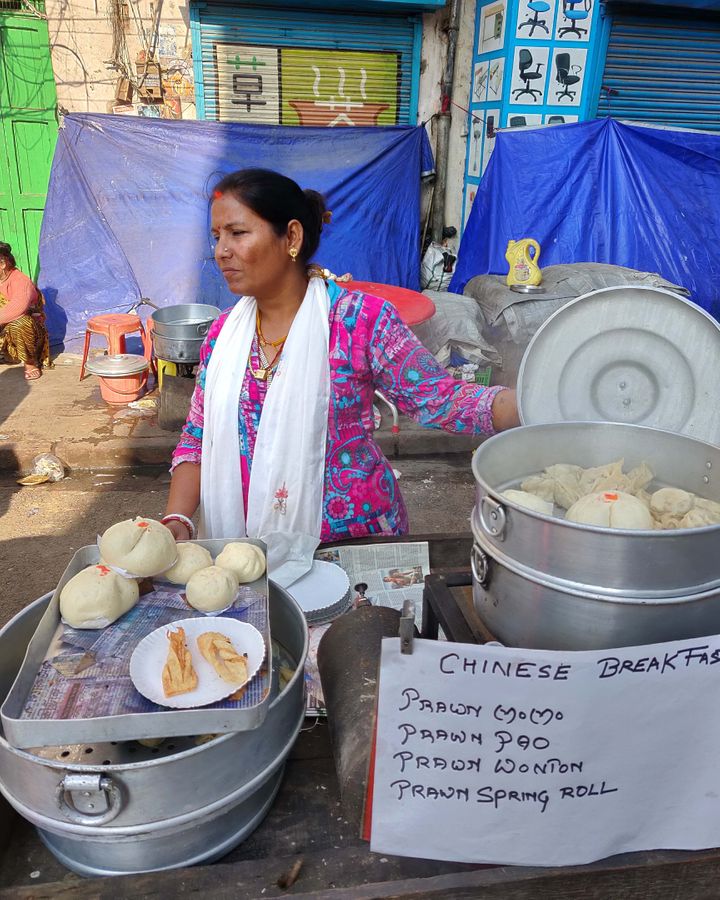 The Sunday morning Chinese breakfast in Tiretta Bazar is a beloved ritual for many Kolkata locals (Credit: Charukesi Ramadurai)
The decline began with the Indo-China war of 1962, when even those who had lived here for generations were treated with suspicion and hostility. Hundreds of Chinese immigrants were rounded up without any basis and sent to internment camps in Rajasthan at the other end of the country, where they received harsh treatment. After they returned home to Kolkata, many decided to move to other countries where they had family and friends.
Since then, hundreds of tanneries and leather factories have also been shut down on government orders, the resulting loss of livelihood driving many more to Australia, the US and Canada. In the last few decades, young people from the Indian Chinese community – as with other communities in India – have moved abroad seeking better education and employment opportunities.
Datta noted that most of his Chinese friends from school now live in Toronto, while Tseng said that only those with established businesses now remain in Kolkata, and are under pressure from their children to move abroad with them.
We are a small, tight-knit community. We still follow our customs and come together for celebrations like the Chinese New Year
Lee herself doesn't bear any of the scars of the community's collective trauma, instead choosing to make the best of her life here. "We are a small, tight-knit community. We still follow our customs and come together for celebrations like the Chinese New Year," she said. Tseng now works in Chennai and visits his parents in Kolkata once a year for the same festival. His voice trailed off as he said, "As long as we have some family there, we will hold on to our culture…"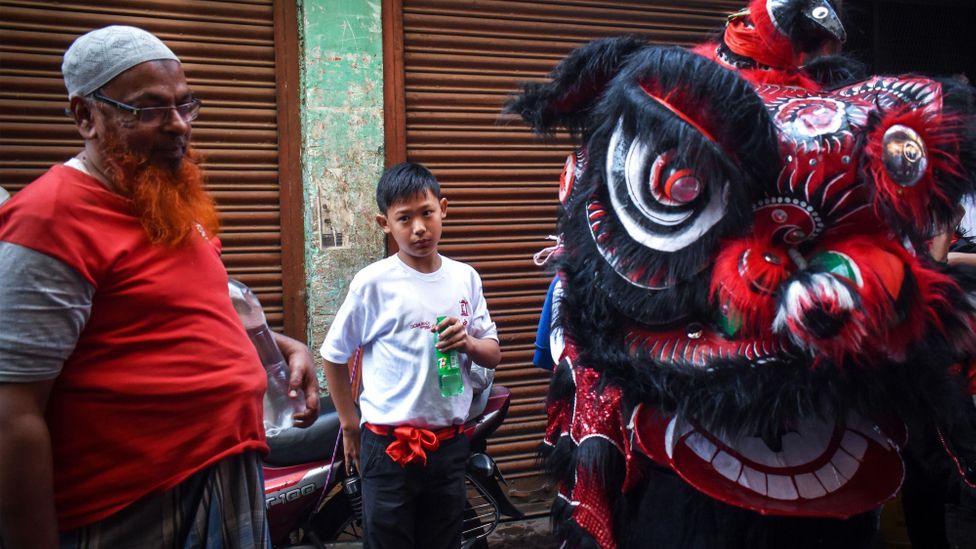 Chinese culture can still be seen in the annual lion dances to welcome the Lunar New Year (Credit: Sudipta Das/Alamy)
According to Lee, the integration has happened both ways, with Bengali vendors learning to speak in Hakka and selling Chinese vegetables like bok choy, kailan and mustard greens. Above all, she said, she likes living in India and feels like she belongs here.
"I can't do without mishti doi and rasgulla," she said with a laugh, referring to the quintessential Bengali sweets that are now an irrevocable part of her life.
Source : BBC News