Whenever Rahul Nair orders a daiquiri or a dark 'n' stormy at a craft cocktail bar in India, he pays close attention to his drink. The 32-year-old graphic designer says that he likes to ask the bartender about the rum added to his cocktail, or still better, try and guess the brand of the rum himself.
And that's because in the past couple of years, a host of homegrown brands – like Short Story, Maka Zai and Camikara – have been sprucing up India's rum scene in remarkable ways.
They're experimenting with the way the spirit is made, its flavour profile and the ways it can be enjoyed, pushing consumers to get curious about rum and ditch stereotypes they might have about the spirit.
For long, rum has been relegated to the bottom shelf of bar cabinets around the world with whiskeys, cognacs and gins taking prime slots. In India, rum has been a popular drink because it's cheap and easily available. But it's not a spirit that has seen a lot of experimentation.
But this is changing as rum undergoes a revolution or sorts, mainly because of rising incomes in big cities and people being open to experimenting with their alcohol.
"Distillers are innovating with the spirit like never before – even in countries like Japan, Thailand and Malaysia – which are conventionally not associated with rum making," says Arijit Bose, a mixologist and founder of Countertop India.
India is one of the fastest-growing alcoholic beverages markets globally, with an estimated market size of $52.5bn in 2020, according to the Indian Council for Research on International Economic Relations.
Rum contributes 11% to the total volume.
The spirit has its roots in the Caribbean – slaves working on sugar plantations discovered that molasses could be used for making alcohol, but colonisation and trade took the spirit to countries around the world.
In India, Old Monk has been the most popular rum brand for decades. This inexpensive, sweet dark spirit has come to define what rum should taste like for generations of Indians. But this is changing now.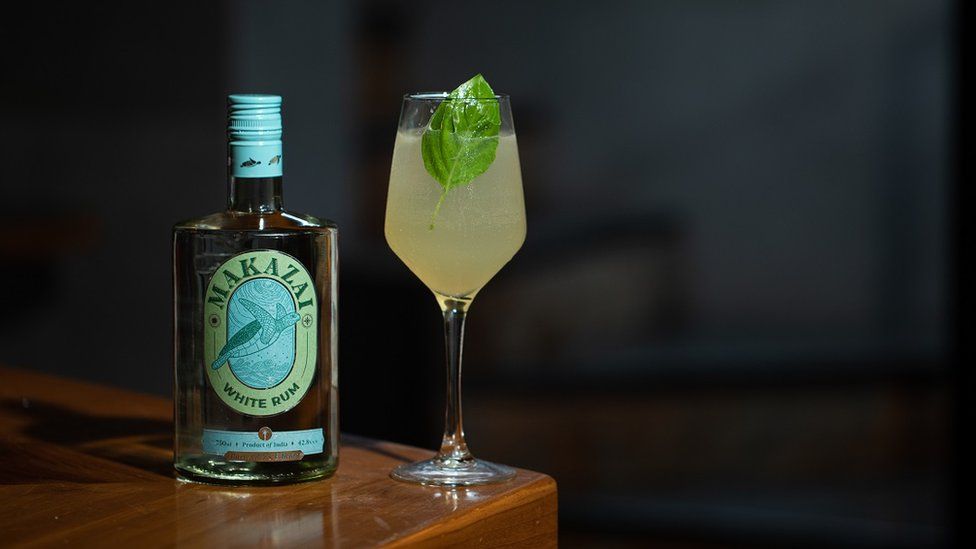 Siddharth Sharma's Piccadilly Distilleries is putting a spin on things by making rum in the rhum agricole or French style – their limited-edition 12-year-aged Camikara, launched in December, is made from sugarcane juice (grown in their own fields) rather than molasses.
This is rather rare in India at the moment and to understand why, one has to first understand how a lot of rum available in the country is made, at least up until recently.
The more affordable rums are largely produced using a neutral spirit made from fermented molasses – a dark, viscous substance left behind after sugarcane juice is processed into sugar. Additives like sugar and caramel are added to give the spirit a more palatable flavour.
These rums can be mass-produced at low costs as the raw material is widely available, thanks to India's thriving sugar producing industry. But experts say that these rums lack the finesse and flavour more premium varieties made abroad offer.
Indian craft rum brands are giving molasses-spirit rums a flavourful boost by adding new ingredients to them like coffee and spices; some are blending in internationally-sourced aged rums to enrich taste. Then there are brands like Camikara, who are swapping the base spirit itself while also experimenting with the distillation and ageing process.
Third Eye Distillery's Short Story rum, which launched last year, gives consumers a taste of rums enjoyed in the Caribbean – a region known for making some of the finest rums in the world. Their white rum combines an Indian molasses rum with Jamaican, Trinidadian and aged Dominican rums.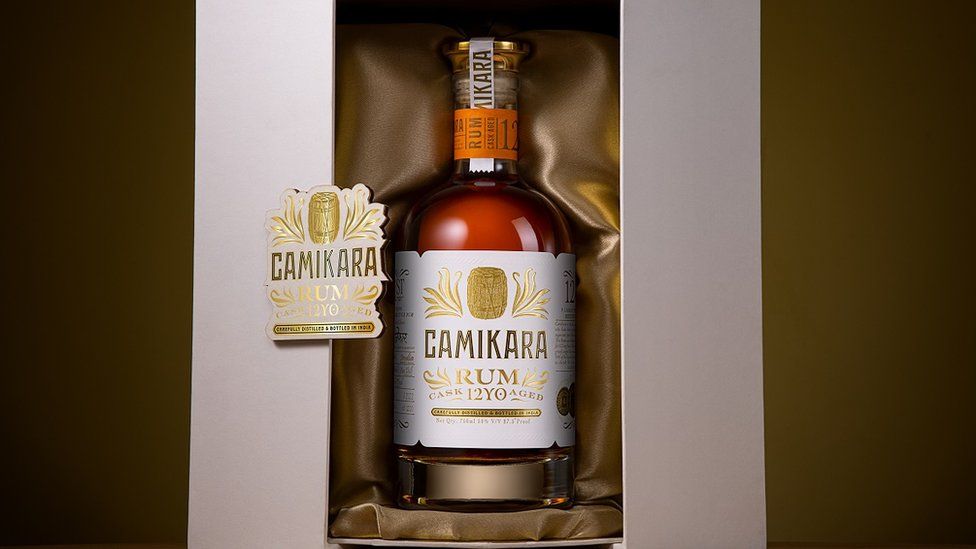 Two years ago, Stilldistilling Spirits launched Maka Zai – one of the earliest homegrown brands experimenting with the spirit. Maka Zai offers a medium-bodied white rum with tropical notes and a blended gold rum that has a creamy texture.
"There are lots of stereotypes around rum – like it's only meant for winters or that the only way to drink it is with coke," says Kasturi Banerjee, founder of Stilldistilling Spirits. "We wanted to break these stereotypes and present rum as a sophisticated but fun drink to enjoy – in the form of cocktails or as is, like a cognac."
Fullarton Distilleries' Segredo Aldeia also hit the market two years ago and offers a white and café rum. Both are made from a combination of sugarcane and jaggery and their café rum is infused with roasted coffee beans sourced from southern India.
Billed as premium or "craft" offerings, all of these rums cost upwards of 1,000 rupees for a 750ml bottle ($12; £10) and can go up to 6,000 rupees. Though the price isn't as steep as a well-made whiskey, Indian rum makers say that it's still a massive shift from what consumers are used to paying for rum.
Yet, cost isn't the main challenge they're facing when it comes to expanding their customer base; rather, it's the lack of knowledge people have about rum.
"There are different styles of rum – French, Spanish and English being the main ones – and each of these styles are interpreted differently in different regions of the world," Siddharth Sharma, founder of Piccadily Distilleries, says.
But brands say that consumers have become a lot more comfortable experimenting with new alcohols, thanks to the gin boom that hit India a few years ago and left retail stores and bars flush with a vast range of homegrown craft gins.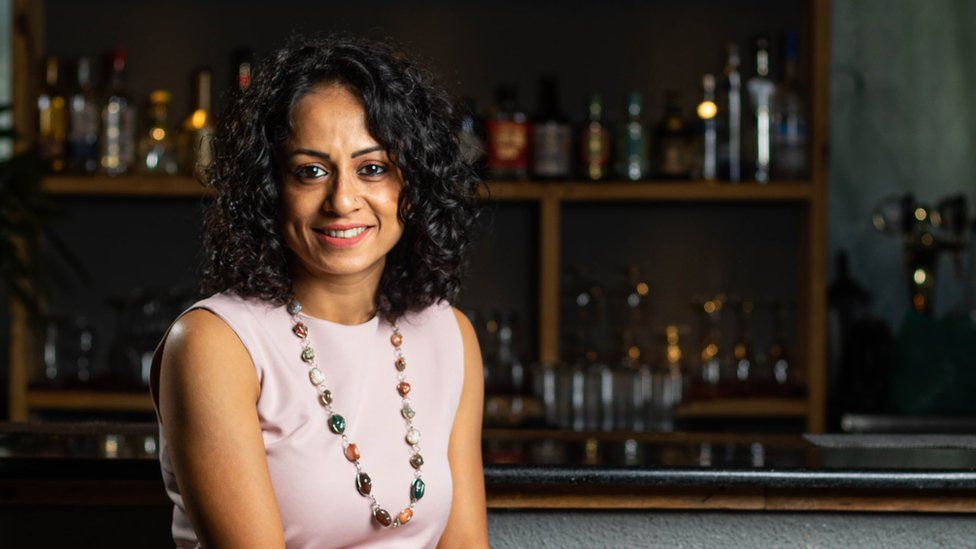 Restaurants and bars are also championing new alcohols by adding them to tasting events or stirring up new cocktails. This positive sentiment is encouraging international rum brands to bring their products to India as well.
French artisanal rum brand Plantation launched in India last year. Their range of double-aged rums (aged once in the country it represents and again in France) gives the consumer a taste of the rum styles of various countries in the Caribbean like Jamaica, Barbados and Trinidad; Pernod Ricard launched Havana Club 7 – a sophisticated aged Cuban dark rum – in India last year.
But despite all the experiments on home turf, critics say that India still has a long way to go before it can offer the world rums that are "craft" or premium in the true sense. And that's because making these rums is expensive and time-intensive.
A lot of the homegrown distilleries experimenting with rums at the moment are small-sized and lack the funds needed to set up primary distillation units (where molasses-based spirit is produced from fermented molasses).
They rely on local producers to get their base spirit – the foundation on which their rum is built.
"Primary distillation is key when it comes to making rum or whiskey," explains Mr Bose. "But it's hard to get a primary distillation license in India. And when you rely on an external source for your base spirit, you can't guarantee its quality," he says.
Secondly, like whiskey, rum too needs to be aged for a minimum of two years for it to get a deep, rich flavour. But warehousing is expensive; the barrels itself cost thousands of rupees, depending on the type of wood used.
But Mr Bose says that these brands are definitely helping start conversations around rum. And this, he says, is a giant leap in the right direction.
Source : BBC