For the second year in a row, employees in India are likely to get double-digit salary hikes in 2023, according to Aon's 28th Annual Salary Increase Survey in India.
Aon, which is a leading global professional services firm, released insights from its study, which analysed data across 1,400 companies from more than 40 industries in India.
Average 10.3% Salary Hike Expected In India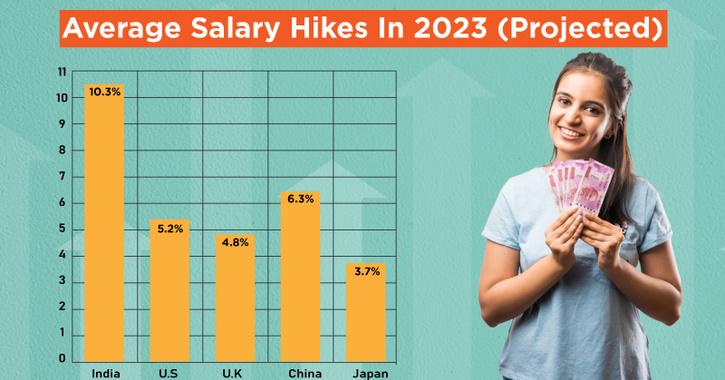 Employees in India are likely to get an average of 10.3% salary hikes this year, a figure that is slightly lower than an actual increase of 10.6% in 2022, according to the survey.
However, despite the global economic uncertainty, India is the only major economy where the projected increase continues to be in double digits. Other major economies' average salary hike projections for 2023 are– China (6.3%), UK (4.8%, Japan (3.7%), Brazil (7.2%), US (5.2%) and Singapore (4.8%).
Although slightly lower than last year, the projected salary increase continues to be in the double digits despite concerns about economic volatility, which may be in response to attrition rates, according to a release issued by Aon, as per an ET report.
"Aggressive Salary Hikes In India"
"India has awarded aggressive salary increases over the last two years, which has some companies grappling with higher wage bills," Roopank Chaudhary, partner, Human Capital Solutions, India at Aon, said.
"Globally connected industries, such as technology platforms and products, are somewhat cautious in their salary budgets while industries driven by domestic demand, such as manufacturing or FMCG/FMCD, are bullish on their budget planning as compared to their five-year averages," he said.
Merit Vs Non-Merit Salary Increase
The survey further reveals that while the merit increase projections (an increase based on individual performance) stay steady at 7.8%, the non-merit salary increase projections (increases on top of merit increases such as market corrections, special adjustments, and promotions) are expected to moderate to 2.8%, which is higher than the historical average.
"The non-merit salary increase projections continue to move up as firms budget for retaining talent through promotions and off-cycle corrections," Pritish Gandhi, director and leader of the Executive Compensation and Governance Practice in India at Aon, said, as per the report. "As companies look to differentiate and optimise their talent spend, employers are investing more in critical talent in key roles," Gandhi said.
Source : India Times