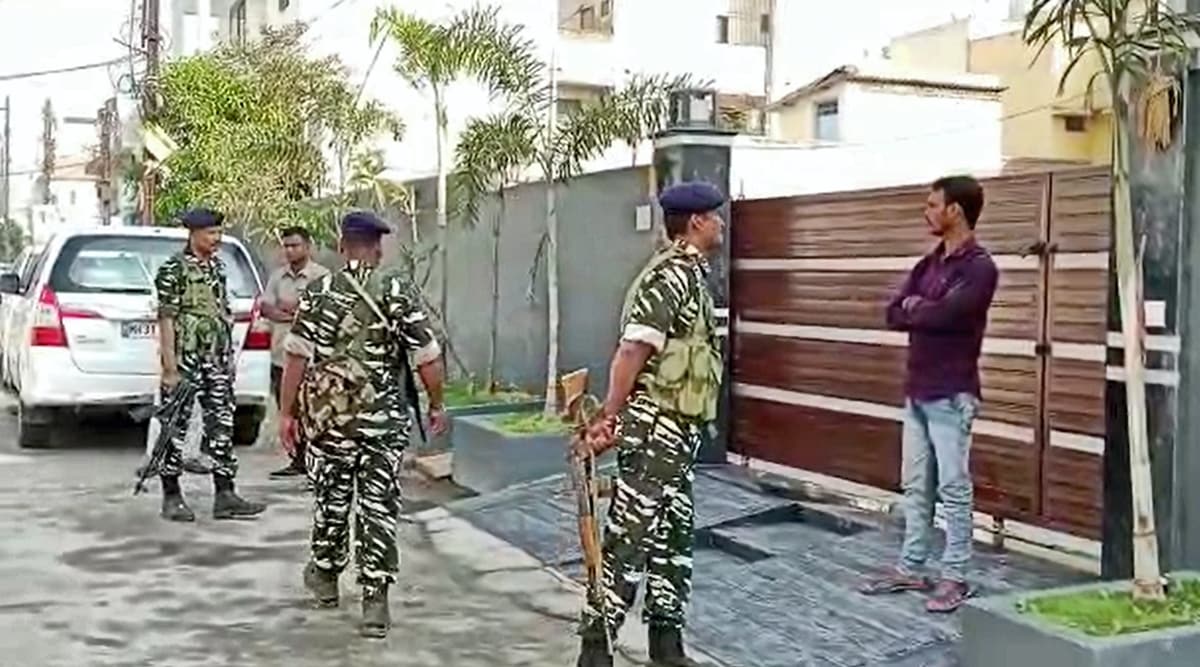 THE ENFORCEMENT Directorate (ED) Monday conducted raids at 13 "private premises of eight people" in Chhattisgarh, including the residences of at least two Congress MLAs, and others associated with the party, as part of its investigation in the coal levy case, officials said.
Reacting to the raids, which were still in progress late Monday, the Congress slammed the Centre for targeting its leaders at a time when the party is preparing to hold the AICC plenary session in Raipur. About 100 Congress workers also staged a protest outside the ED office in Raipur. Rai were among those raided by the ED in Raipur, Bhilai in Durg and Bilaigarh in Baloda Bazar.
The agency also conducted raids at premises linked to the party's state treasurer Ram Gopal Agrawal, spokesperson R P Singh, and others identified as Girish Dewangan, Vinod Tiwari and Sunny Agrawal. Ram Gopal Agrawal is also chairman of the state's civil supplies corporation.
"Apart from incriminating documents, we have seized jewellery and cash from one of the two MLAs whose residence was raided," said an ED official.
According to ED sources, the raid was conducted by over 50 officials and began at 6 am. "The names (of the persons whose premises were raided) had cropped up last year during raids by the IT department. A decision on whether they would be arrested will be taken after investigations are completed," said sources.
According to the ED, the coal case involves a cartel of bureaucrats, businessmen, politicians and middlemen, which was allegedly extorting a levy of Rs 25 per tonne of coal transported into Chhattisgarh. The proceeds of the crime, the ED alleged, were being used for "investing in benami assets, bribing officials to influence senior officers and also used by or on behalf of political executives of the state".
The ED's action triggered a furious reaction from the Congress. "They have conducted 5,000 raids but only in barely 35 raids could they find something. They (BJP) believe in destroying their opponents by using such tactics. Nearly a dozen places were raided in Chhattisgarh today. In four days, we will have the maha-adeveshan (AICC Plenary). What was the need to do such raids ahead of the meeting?" Baghel said.
ADVERTISEMENT
Addressing a press conference in Delhi, Congress leaders Jairam Ramesh and Pawan Khera lashed out at the Government, and accused the ED of standing for "eliminating democracy" and "exterminating democracy".
Ramesh said the Congress would not be cowed down. "We will fight it strongly. Let there be raids. The Government doesn't conduct raids where raids are needed, doesn't unleash the ED where it is needed. The revelations that are coming out with regard to Gautam Adani, the Prime Minister's favourite industrialist, there is no investigation against him, no raids. The demand for a JPC has also been turned down," he said.
"This is clearly the politics of vendetta, politics of vengeance, politics of harassment. This is supposed to be a curtain raiser for the plenary session of the Congress. We are not afraid, we have nothing to hide. We will not be intimidated," Ramesh said.
"If anything, these raids have increased our determination, a booster dose to be even more aggressive against the Prime Minister and his third-rate politics of vendetta, vengeance and harassment," he said.
According to Khera, the ED had conducted 112 raids between 2004 and 2014 when the UPA was in power. But in the last eight years, he said, the agency had conducted 3,010 raids out of which 95 per cent had been targeted at opposition politicians, including Congress leaders being targeted 24 times.
Khera said the CBI had raided premises connected to former party leader Himanta Biswa Sarma in connection with the multi-crore Saradha scam in 2014 but he has since become "fair and lovely" and the Chief Minister of Assam after joining the BJP.
Referring to other similar cases, Khera said, "What happened to the cases…against Suvendu Adhikari, B S Yeddyurappa, Reddy brothers, Mukul Roy…there are many names…they all have become brand ambassadors of fair and lovely."
"We are also in power in some states, we will come to power in some states, too… 2024 is also coming, the weather will change. Our advice to the Prime Minister and to officials who have become puppets in his hands is to consider our decency as our jewel and not our weakness," Khera told reporters.
In October last year, the ED had arrested Chhattisgarh IAS officer Sameer Vishnoi, businessman Sunil Agrawal and another person in the coal case. On January 12, the agency raided 16 locations across Chhattisgarh, including the residences of an IAS officer, politicians and coal traders.
On January 30, the ED had filed a chargesheet in a Prevention of Money Laundering Act (PMLA) special court in Raipur against eight people, including Saumya Chaurasia, former deputy secretary to Chhattisgarh Chief Minister Bhupesh Baghel, in a related case.
Source: Indian Express